Instagram has been making waves since its debut in late 2010, attaining 1 million users just 2 months after its launch. Now, it has 600 million users to its name, boasting the second largest following of any social media platform. Given this, it is no surprise that designer Johandré Saayman came up with a revolutionary idea: a phoneless Instagram.
Designed in an attempt to remove the need to carry around an easily damageable phone, Saayman created the Instasnap, which is a camera with the power to upload its content directly to Instagram. While it has the durability of a GoPro, from the square nature of the shots, to the ability to record exactly 60 seconds of footage (the Instagram limit for video uploads), this device is undoubtedly specific for Instagram.
According to his post on Bēhance:
The Instasnap design mimicked the logo of Instagram, it was a good choice for several reasons whereof its something extremely simple and something vastly different to other camera's on the market.
Keeping true to Instagram's unique platform, I have set out to make the interface simple and very easy to use, the only button required to operate the Instasnap device is a power button on the top of the rubberized grip, which simply switches the camera on, there are two buttons on the side of the device that allows the user to select different settings on the device. All the media are stored on the devices internal SSD Flash Storage.
The Instasnap camera is entirely up to speed with today's technology. It demonstrates a variety of options in terms of networking, connection, and recording, as can be seen on these demographics: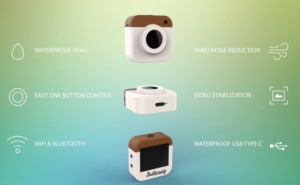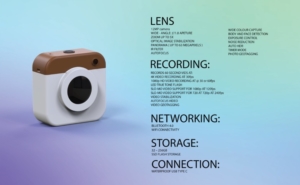 For all our Instagram gurus out there, this may well be your new favorite thing!