Created in collaboration with creative agency AMV BBDO, Whiskas' "Purr More" campaign gives viewers an inside look into a cat's imagination as he tries its chicken gravy treats for the first time.
About the ad
Not only does Whiskas' latest ad feature a unique soundtrack composed just for cats, but it also explores what goes on inside these furry friends' heads when they taste great food. The ad follows a kitty as he is transported to a room furnished in items created solely out of yarn and deep-dives into the ocean in a kitty submarine to capture fish. Through humorous yet lush imagery, Whiskas shows how it uses the purrfect combination of ingredients to get your tabby to "purr more."
"The bigger the purr, the better the prize."
Additionally, to help promote the campaign, Whiskas is inviting cat owners to convert their cats' purrs into prizes and rack up points towards purchases. Cat owners simply have to record their cats' purrs and submit them to Whiskas online.
Behind the music
To bring the purrfect soundtrack to life, Whiskas worked with "animal composer" David Teie to compose music that is "scientifically proven" to be calming to cats. Teie is a cellist with the National Symphony Orchestra, and has composed music for a number of different animals. According to a recent interview, Teie stated:
"Cats listen to sounds at different frequencies to humans, so we've created a piece of music that appeals to their unique audio range."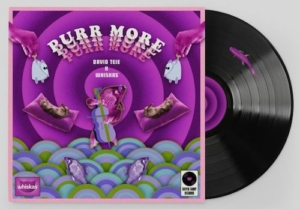 Whiskas even had Teie create an album of seven songs written specifically to appeal kitty audiophiles, which you can listen to on YouTube or Spotify and share with friends. The company also produced a limited-edition version for vinyl junkies, complete with a purple fish that spins round and round with the record to keep your cat entertained for a whole 50 minutes and 23 seconds!
When asked how they came up with the idea to create this special music for cats to promote cat food, the chief creative officer of AMV BBDO stated:
"We wanted to create an idea for Whiskas that truly mirrored their mission which, when you boil everything down, is to make cats and cat parents happy. The purr is the ultimate sign of cat happiness. So, in every piece of creative work moving forward our goal will be to create a world where cats Purr More."