YouTube has just launched YouTube Giving, a suite of features designed for nonprofit organizations. This set of new features promises to make both connecting with donors and accepting donations easier.
YouTube Giving has four features: Fundraisers, Community Fundraisers, Campaign Matching, and Super Chat for Good. The first three are currently in beta mode.
The Fundraisers feature will enable organizations to create embedded fundraising campaigns right next to their videos, including embedding a donate button in the video and live streams. Organizations can post a donate button directly under their videos, and YouTube will even handle the donation logistics and payment processing.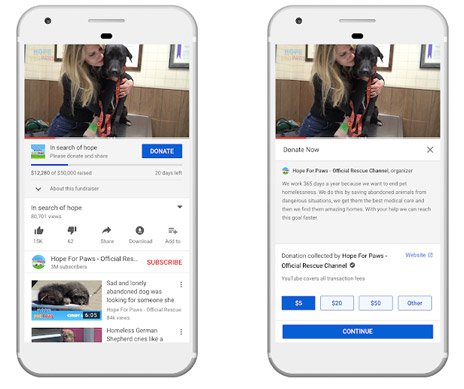 Community fundraisers works similarly, but allows multiple channels to co-host the same fundraiser –perfect if your organization is partnering with a well-known figure or another organization for a fundraiser.
Although not yet launched, Campaign Matching will enable fundraisers to receive matching pledges from other creators and brands. This will be displayed in the fundraiser feature, making collaboration and viral growth a simple and organic process.
The Super Chat for Good feature builds off of the current Super Chat feature, which enables fans to pay to have their livestream comment pinned in the ticker for a certain amount of time. With Super Chat for Good, 100% of all Super Chat purchases go to a nonprofit chosen by the creator.
YouTube stated of the new features:
From live streams to community campaigns, it's humbling to see how creators around the world use YouTube as a platform to bring together communities and champion the causes they care about. These movements remind us about what is (and has always been) so special about YouTube — the deep and meaningful connections between creators and their fans, and the powerful impact they build together.
If your organization uses YouTube videos to reach out to donors, these new tools will make it much easier to translate those video views into donations.