This fall, the Hunger-Games-style Korean drama Squid Game captivated viewers across the globe. The setup is simple: desperate debt-ridden contestants compete in a series of children's games where the prize is an ungodly amount of cash – and the penalty for failure is death.
Less than a month after its launch, the show became a global smash hit, racking up 111 million views and becoming Netflix's most-watched show ever, according to internal metrics.
While the company expected the high-concept series to be a hit in Korea, "there's no way to have anticipated it would be this big [globally]," says Netflix global TV head Bela Bajaria.
Incidental sales surges
Its success has sparked an explosion of both sales in items incidentally related to the show, and in the number of branded campaigns tapping into its popularity.
A flurry of fans hoping to dress like the contestants from the show made Walmart almost run out of tracksuits and sent sales of Vans white sneakers up 7,800 percent. Auction, a Korean site comparable to eBay, saw an 860 percent increase in marble sales (marbles are a key item in one of the challenges of the game.) And the now-famous dalgona honeycomb cookies have surged in popularity as well.
Squid Game branded campaigns
Savvy brands have decided to jump on the bandwagon and capitalize off the Squid Game sensation with partnerships geared towards the show's audience.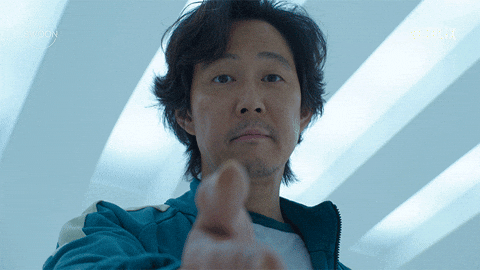 Debt assistance app Relief passed out business cards like those used in the show – but rather than offering recipients the chance to play a life-or-death competition for a cash prize, the cards said: "There's a better way to get out of debt," and provided the company phone number.
Jung Ho-Yeon, an actress from the show, was recently recruited for a campaign with Louis Vuitton after her Instagram account jumped from a 410k following to 22 million followers. Other branded campaigns played off the honey-biscuit challenge, or simply incorporated the symbols in their own advertising or social media posts.
Experiential marketing
The show is also being highly utilized in experiential marketing for companies as well, from cafés opening expressly as Squid Game-themed spots, to pop-up shops peddling merch.
Sales have shot through the roof at restaurants that have incorporated Squid Game experiences into their offerings – such as selling dalgona and awarding customers prizes for successful completion of the challenge from the show. One Squid Game-themed experience in the United Arab Emirates became so popular that the café had to discontinue it because of their inability to keep up with the wild demand.
Does Squid Game have lasting marketing power?
Will the Squid Game craze wane in the months to come? Maybe. But one thing's for certain: when it comes to marketing, Squid Game has the Midas touch. And for a show infused with capitalist critiques, that's an irony too delicious to ignore.