The iPhone X is out, and despite its massive price tag ($999), it may be the first truly revolutionary thing Apple has done in a while.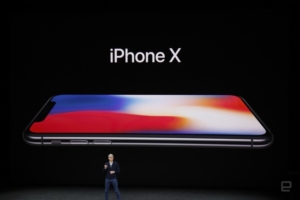 For starters, the phone is all about the screen. Engadget reports:
The "Super Retina" display is 5.8 inches, with a 2436 x 1125 resolution — that works out to 458 pixels per inch, by far the highest ever seen on an iPhone. Phil Schiller also notes that it's an OLED screen, the first that's "good enough" for an iPhone. The screen supports HDR, and naturally includes 3D Touch technology and the "True Tone" display found on the iPhone 8 and iPad Pro.

To accommodate this giant display, Apple has ditched the home button and Touch ID. You can raise the phone to wake it up, but you can also tap the screen to do the same. Given that every iPhone has had a home button, this change might even be a bigger deal than the bigger screen. To get home, Apple has added gestures like the ones we've seen on the iPad for years — a swipe up from the bottom gets you back to the home screen, while swiping up and pausing will bring you to the multitasking menu. To access Siri, you can say "Hey Siri" or hold the side button, which Apple has enlarged. The phone is wrapped with stainless steel and has glass on the front and back; surprisingly, it comes in only two finishes: silver and black.
Additionally, the iPhone X makes use of facial recognition technology, apparently so sophisticated that you can now link your face to Apple Pay. This is in part because of Apple's new emphasis on facial recognition, but it's also because the iPhone X has two professional grade cameras.
It has dual 12-megapixel sensors with a f/1.8 aperture on the wide end and f/2.4 on the telephoto lens. The big thing to note here is that both lenses have optical image stabilization, while the iPhone 8 Plus has only OIS on the wide-angle lens. It also features factory calibration on the cameras, for augmented reality, as well as the new software-enhanced "Portrait Lighting" mode found in the iPhone 8 Plus.
This is all great, but is the iPhone X worth it?
That depends. If you're willing to accept Apple's vision of home-buttonless future (and pay the steep price), go for it. If not, Apple also just released the iPhone 8 or 8 Plus, which falls somewhere between the iPhone 7 and the iPhone X.
Small image via Engadget.